Introducing the BC1 Mini, an Open Benchtable for Small Form Factor Systems
The OBT BC1 Mini is a Portable, Lightweight Benchtable Designed Specifically for Small-Form-Factor Testing and Showcasing
October 18, 2017 – The Open Benchtable Project is today delighted to announce the official arrival of the BC1 Mini, a lightweight, toolless benchtable that has been designed specifically for Small Form Factor systems. Co-developed with HWBOT, OverClocking-TV and Streacom, the BC1 Open Benchtable is a community-developed product that has won awards from Red Dot and iF Design in recognition of its portability, esthetics and design prowess. Available in Q4 2017, the BC1 Mini follows the same design principles of the BC1 Open Benchtable, arriving in choice of three colors to match your preference.
"Just one year after we launched the popular BC1, we hope the enthusiast community will again be excited to receive the BC1 Mini, an Open Benchtable that re-defines the rules about small, compact and portable systems," commented commented Isaïe Simonnet, Project Development Manager, VP of OverClocking-TV.
"Streacom has always had a keen focus on small form factor design so for us the BC1 Mini is a natural progression from the acclaimed BC1" commented Shimon Simon, Head of Design and Manufacturing at Streacom. "We have taken all the great feature of the BC1 and packed them into an ultra-compact form that is perfect for ITX based platforms."
The Open Benchtable BC1 Mini: Enjoy Ultimate Portability
The Mini-ITX form factor standard is developed specifically to address the need for more compact systems. Today there is no compromise on performance, as more Mini-ITX motherboards are used by gamers, enthusiasts and overclockers in systems that use the latest high performance hardware. The OBT BC1 Mini redefines the desire for small form factor benchtable, bringing the advantages of the original Open Benchtable in a smaller footprint that offers the ultimate portable system.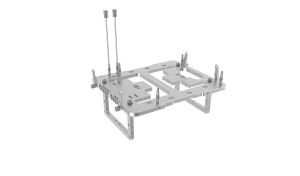 BC1-Mini: Features Highlights
Ultra Portability
With only 900 grams packed into the size of a tablet of 8mm thinness, the BC1 Mini feature a carry-handle for an ultimate portability.
All-in-One Integration
Main body integrates the legs, mounting brackets, standoffs and thumbscrews – everything you need to quickly set up an open rig.
Toolless Design
The entire product uses thumbscrews : you won't even need to bring a screwdriver with you. Motherboard standoffs include traditional and convenient pushpin options.
True Versatility
Integrated extension support brackets accommodate fans and radiators in a variety of configurations.
Native Small Form Factor Support
Supports Mini-ITX form factor motherboards, plus graphic cards up to 3 slots width in all sizes. Supports SFX and SFX-L form factor power supplies.
Tradeshow Secure Lock
An integrated Kensington Lock that makes it ideally suited for showcasing and product demos at tradeshows and other public situations where theft could be an issue.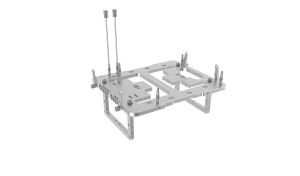 Pre-Order Now, Available in Q4 2017 in Silver, Black and Red
The BC1 Mini will be available in limited quantities from early Q4 2017. In your choice of Silver, Black or Red each BC1 Mini arrives sporting a discreet Open Benchtable engraving in a shockproof casing.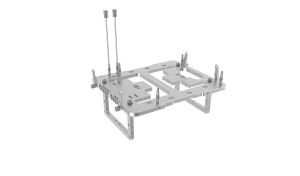 The OBT BC1 Mini is available now! Order directly from OpenBenchtable.com starting at USD $164 and available in Q4 through existing Streacom retailers.
View full details, specification and pictures on the BC1 Mini product page.
BC1 Screw Kit Now Available
The Open Benchtable Project now offers an additional Screw Kit. This allows you to expand or replace existing BC1 kit parts. Each contains 4x pushpin standoffs, 4x regular standoffs, 8x M3 thumbscrews, 6 x 6#32 thumbscrews and 2x PCI thumbscrews with nuts.
The BC1 Screw Kit is is available now for USD $49 on Openbenchtable.com.
You can find more information about the Screw Kit here: https://openbenchtable.com/specifications/#screwkitspecs
The Open Benchtable Project, Community Driven with Passion
From the outset, the Open Benchtable project is driven and propelled by a passionate community of enthusiasts and overclockers. The BC1 Mini is another example of a community-led design that enables new ideas.
A crucial aspect of the Open Benchtable project is that its design is open to third party developers of additional accessories. Started by HWBOT and OverClocking-TV and later joined by Streacom, the project allows full access to the blueprint files of Open Benchtable products. This allows third party developers to build accessories that are compatible with all Open Benchtable products, plus modify and share their design improvements.
Ultimately, community enthusiasts will be able to share their own unique accessory designs and 3D files on the Open Benchtable Community for others to use. Blueprints and other design related documentation are publicly available for registered makers.
To learn more about the Open Benchtable project and some of the projects submitted by Open Benchtable community members visit the OBT Community section at : https://openbenchtable.com/community/
About the Open Benchtable Project
The Open Benchtable project set out to create an open testbed platform for PC components, adapting to the evolving needs of PC enthusiasts and IT professionals. The project has now developed a range of benchtable products that are highly suited to the needs of a travelling PC enthusiast, overclocker, or any professional who needs to test components efficiently.
The lightweight BC1 Open Benchtable has received praise from tech enthusiast and reviewer worldwide including prestigious awards from Red Dot and iF Design. Eminently portable and fully integrated, Open Benchtable products contain all the components needed to set up a full system. Blueprint of the actual BC1 product are open-source allowing the platform to grow and evolve.
Questions or enquiries related to the Open Benchtable project can be sent to: contact@openbenchtable.com
About OverClocking-TV
OverClocking-TV is a web-TV focussed on the production of video content and live broadcasts exclusively about overclocking. Since 2009, OCTV has been pioneering and innovating to push overclocking to new heights. Projects like the Open Benchtable are a testimony to such commitment to the community.
http://www.overclocking-tv.com/
About HWBOT
HWBOT has been involved with maintaining overclocking submission databases and monitoring and regulating overclocking leagues, records and contests since 2006. HWBOT exists to promote overclocking at all levels, abilities and budgets, reshaping something that began as an enthusiast hobby, into a globally respected Esport.
About Streacom
Streacom is a computer hardware manufacturer with a focus on quality and a passion for creating products that break the mould of traditional designs. Established in 2010, it has become a benchmark for unique SFF and fanless cases. With the use of premium materials and minimalist designs, Streacom is the perfect partner for the Open Benchtable project.
https://openbenchtable.com/wp-content/uploads/2017/10/obt-mini-folded-silver.png
1560
2560
Pieter-Jan Plaisier
https://openbenchtable.com/wp-content/uploads/2017/06/logo-if-rd-330-300x107.png
Pieter-Jan Plaisier
2017-10-18 13:03:47
2017-10-18 13:03:47
Introducing the BC1 Mini, an Open Benchtable for Small Form Factor Systems